Adding Teacher's Aids
The designated Teacher of a course has the ability to allow another person the role of a Teacher's Aid or Non-Editing Teacher. These roles can be given to anyone in Converge (students, other teachers, etc.)
*Note: individuals added using this method are not officially part of a course. No record of their participation will exist outside of Converge.
What's the difference?
A Teacher's Aid has almost all the same abilities as a Teacher in a course, but is unable to enroll others into a course
A Non-editing Teacher can teach in courses and grade students, but may not create or change activities
How to do it
Start at the course main page. Under Course Administration, click on Users (A), then Enrolled Users (B).
Click on Enrolled Users and a box will pop up.
"Assign roles," choose the role you want to give
Search for the students name at the bottom of the pop-up window
Click "Enroll" next to the person you want to add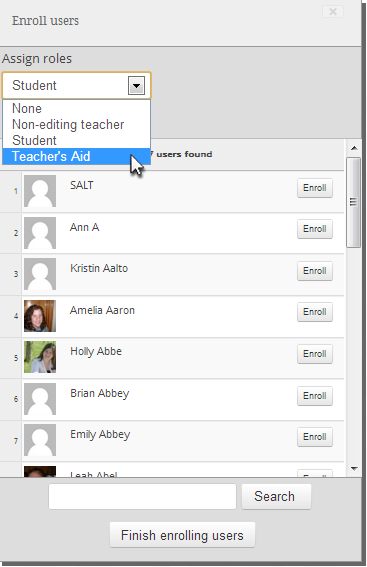 When you are done adding the Teacher's Aid, click "Finish enrolling users" at the bottom.